Basic IFC2x3 model exported from Sketchup
Hi everyone,
I decided to step back a little and stick with what I know for now. I know it might be out of scope for OSArch as Sketchup is not opensource and not free anymore (for commercial use at least).
I hope this topic is useful for someone in the same path as me. For me it might be the starting point for actual diving into a BIM workflow with the tool I work with. Maybe it will help others.
I'm using Sketchup 2020.
Sketchup has a native IFC 2x3 exporter, and a classifier tool with the IFC 2x3 schema built in.
It seems broken the native exporter is broken. It also seems we can use the IFC4 Schema if we want, but as the exporter is for IFC2x3 and broken it won't do any good.
The process I tried only worked using this plugin to export to IFC:
https://github.com/BIM-Tools/SketchUp-IFC-Manager/releases
The plugin is developed by Jan Brawer (Brewski whom I talked with a long time ago on Sketchucation), and has been trying, for ages to get to grips with BIM and Sketchup.
STRUCTURE
I started by structuring a very basic model as you would for an IFC file:
Project > Site > Building > Storey
The only Sketchup objects that can be used are components. Groups won't work. So the outliner must have a component for a project, with a nested component for the site, with the building inside, storeys inside the building, windows in the storeys and I guess it keeps going on on for every other element.
I'll keep investigating how it's better structured as windows are sometimes glued to walls and inside them in Sketchup, but I'm guessing that will not work.
CLASSIFICATION
You can use Sketchup Native classification and I found that the it is simplified in a streamlined way for architecture. You can click on the simplify button which complexifies the classification for other purposes besides architecture. I won't be doing that soon.
The classifications I used were:
IfcProject;
IfcSite;
IfcBuilding;
IfcBuildingStorey;
IfcWindow.
Jan's plugin has a classification tool too, which has something related to Layers and Materials in it, which I will try later.
EXPORT TO IFC
You have to export using Jan Brawer's plugin or your component's names will be forgotten.
In the end I've imported the IFC file to BlenderBIM and it seems nice: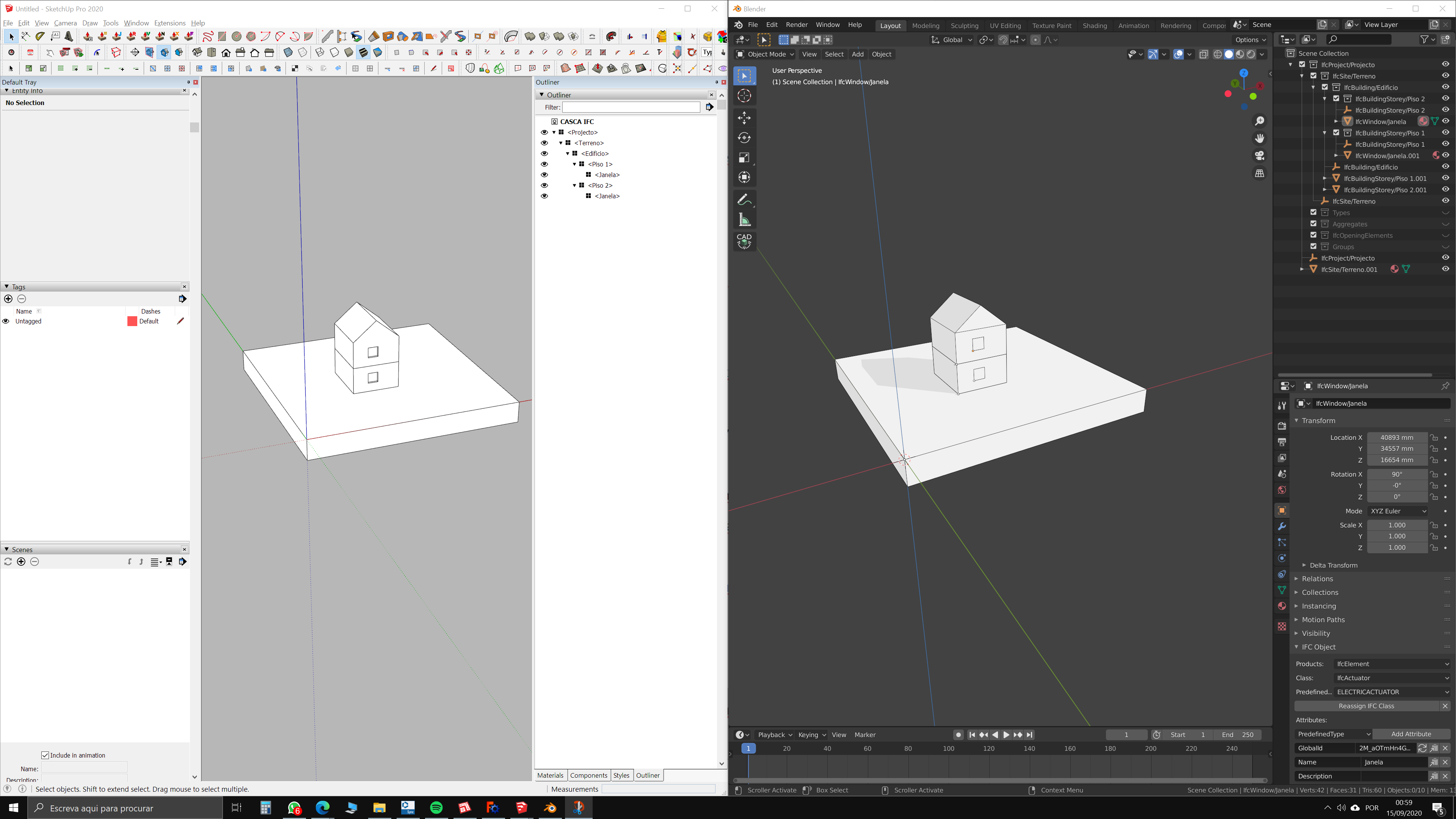 It would be great if someone could chime in and tell me if this looks right or if there's something strange.
I'll keep on posting my experiments and will stick to sketchup for now, if you don't mind, until I can do more stuff with other software.
Best regards to all and thanks for your help so far.
João