Supporting a multilingual community / wiki translations
I've added the Spanish forum to our wiki navigation. I think it would be good with a page dedicated to linking to a group in each language with overlapping aims - obviously there's a limit to how much those of us who don't speak the relevant language can help with that.
To make a start I've added a link on the wiki to the Spanish part of the forum.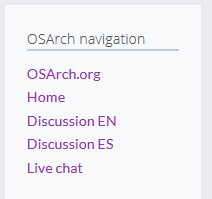 I suggest making a dedicated page with native language short descriptions, but I can't decide what to call it. I thought 'International Friends' but that doesn't capture that it's about different languages, we're already inter-national. I also think it needs to be very near the top of the front page. But if we start with a single page in multiple languages we can go from there.
Tagged: