ifcOpenShell get Wall Layers and Materials
Hello everybody! I have been roaming the virutal walls of the OSAArch community for months now and I must say I am really inspiered by the effort a lot of people are putting into.
I am mostly interested in getting data out of an ifc modell and exporting it into excell for example. I found a lot of great code examples on the internet and managed to compile it into a code that extractes all the parameter data from all the elements, but I realized that the layer and material data is missing.
How can I extract the Layer and Material data ouf of a wall for example?
I used the dir() function on a wall and went through all the methods didnt really manage to get somethign usefull out of it. With the "HasAssociations" methodI manage to get a single Material (IfcRelAssociatesMaterial) but if I look the exact same wall in a Ifc viewer I see that it has more layers and materials.
To summarize if I have a list of walls how do I extract the layer information? Example: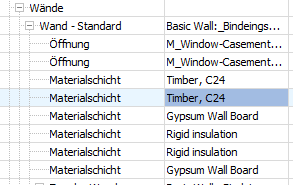 Tagged: