BimTester for a newbie
Hi everybody,
I'd like to use BimTester in Blenderbim. I went to github but now it's too difficult for me. Then i went here https://wiki.osarch.org/index.php?title=Using_MicroMVDs_for_exchange_requirements but it seems to be not updated to current version. Can someone explain me which input i've to insert ?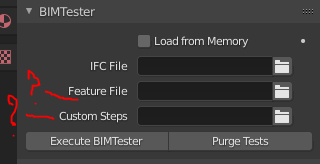 If i will be able to succed i will be very glad to write a short tutorial to help people understand the workflow.
Thanks everybody.
Tagged: